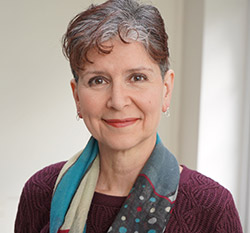 ---
Kathleen started her media career in the USA as presenter, writer and eventually series producer for the weekly magazine chat show, "Catch the Spirit". She has been working in the UK since 1992 as a print, television and radio journalist, as well as lecturer and media consultant. She has won international recognition, including several Emmy nominations and a Bronze Medal from the Charleston Film and Video Festival, for documentaries shot in Northern Ireland, the Balkans, Africa, and the USA - exploring topics such as divided communities, poverty, and multifaith/cross-cultural relations.
In her work as an on-air correspondent and producer, she has contributed to news and magazine programmes for broadcasters including the BBC and ITV in the UK, and ABC, CBS and NBC in the USA. Among her interviews are conversations with veteran journalist and former White House press secretary Bill Moyers, Nobel Peace Prize winner Wangari Maathai, heavy-weight boxing champion, Evander Holyfield, Jazz legend Dave Brubeck and Glastonbury festival founder, Michael Eavis. In 2008, Kathleen and her husband Chris Loughlin set up PictureWise Productions which develops video and other multimedia projects for broadcasters and not-for-profit organisations.   
Kathleen writes feature and comment pieces for publications in the US and UK and has also contributed to Amazing Gifts (Alban Institute 2012), Connected Spirits (Pilgrim Press 2007), and Global Exchange: Reading and Writing in a World Context and Creating American: Reading and Writing Arguments (both by Prentice Hall 2005)
An ordained Methodist minister since 1981, she is a part-time healthcare chaplain and has worked with hospital and mental health trusts in the North West of England. She has official standing in both the US and British Methodist Churches.
---